WHEN IT COMES TO CORPORATE PARTIES IN CALGARY, EXCELLENT CATERING WILL ENSURE IT'S A HIT!
Especially when it comes to food, without the professional assistance of corporate catering, you'd have to worry about gathering the ingredients, prepping the meals, cook and cleaning, etc.
With our catering services, we take care of these details at Rocky Mountain BBQ, so you don't have to! Our corporate BBQ catering services in Calgary offer entrees, platters, salads, sides, and more that your guests will love.
Fresh

 On-Site
Corporate catering in Calgary
We set up and cook everything fresh on-site with Rocky Mountain BBQ's corporate catering services. This ensures only the freshest and highest quality food for all your guests.
Our mobile catering units are perfect for corporate events. We are entirely self-sustainable, bringing everything we need, from serving tables to our own power, water, and so much more.
Simply tell us where you would like us to serve, then sit back, enjoy your event and let us handle the rest!
Wide range of
Menu options
Corporate BBQ catering services offer a wide range of options. For example, Rocky Mountain BBQ Catering provides everything from dry ribs and chicken wings to garlic-roasted potatoes and creamy mac and cheese. A catering service can provide a more extensive menu than if you were to pick the ingredients yourself manually.
More often than not, people aren't very acquainted with proper food hygiene. However, if you're serving meals, handling this aspect safely and adequately is essential – or you could risk getting someone ill. Corporate catering services have expert knowledge in prepping, cooking, and serving food to guests!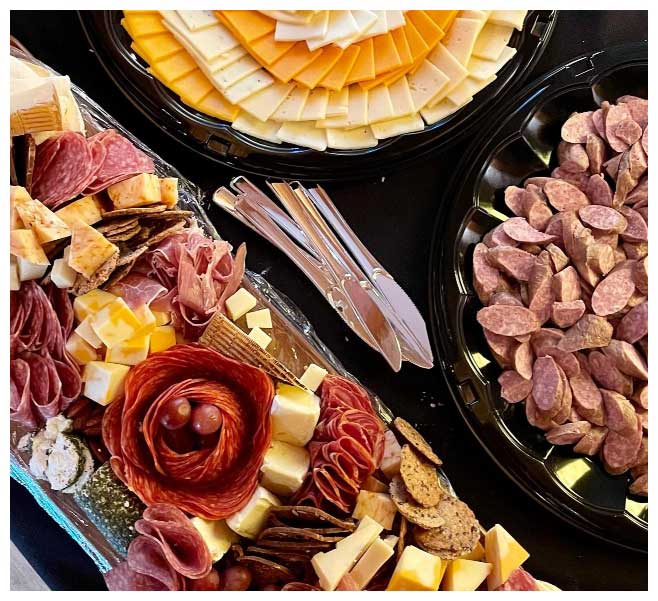 Simplicity
WITH OUR CATERING SERVICES, YOU NO LONGER HAVE TO FIGURE OUT WHERE TO GET THE FOOD, HOW TO COOK IT, BUY SUPPLIES, FIND SEATING OPTIONS, AND SO ON!
Rocky Mountain BBQ in Calgary will help make your corporate party planning easy. We help you choose a menu and care for everything else you need. Stop worrying about the mess at the end; your on-site catering company will handle it.
Hospitality
WHEN IT COMES TO CATERING SERVICES IN CALGARY, WE CAN PROVIDE QUALITY FOOD AND EXCELLENT SERVICE IN A CLEAN AND ORGANIZED MANNER.
Does someone at your event have a special food request? You can request options for vegans, carnivores or specialized dishes to accommodate allergies.
Versatility
IS YOUR WEDDING OR CORPORATE EVENT AT AN INDOOR OR OUTDOOR VENUE? WHAT DO YOU DO IF IT RAINS OR SNOWS?
You don't have to worry about these factors when choosing our wedding catering service. With Rocky Mountain BBQ, you pick the time and place, and we can make it happen!
No Equipment?


No Problem!
WE WILL HAVE ALL THE NECESSARY EQUIPMENT FOR AN OUTSTANDING EVENT.
Rocky Mountain BBQ caters to you with its equipment ready to go. Everything from stoves and BBQ's down to plates, napkins, and cutlery are all taken care of with your on-site caterer. Keep your guests entertained by watching our caterers cook up a fiery event and indulge in the mouth-watering food provided!
Frequently Asked Questions